New Supplier Showcase Opportunities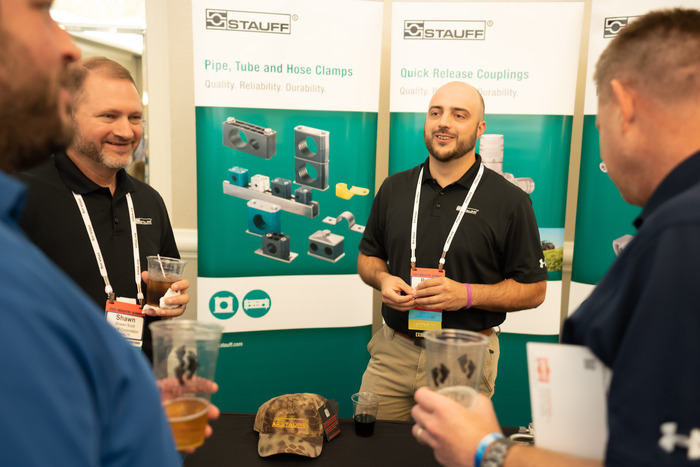 New this year, your exhibit table purchase will include 10 raffle tickets to be handed out during the Supplier Showcase to customers who visit your table. Customers are entered into a drawing to win a free 2023 attendee registration. Additional tickets are available for purchase.
Exhibit Table - $850: Includes one 6-foot skirted table and 10 raffle tickets.
Value Add-On: Exhibit Commercial - $150: Give attendees a sneak peek by adding a commercial to your exhibit table purchase. Your one-minute commercial promoting your company and products will be featured on the Industry Summit webpage.
Raffle Ticket 10 Pack - $20: Purchase an additional packet of tickets to give visitors to your table. Includes 10 tickets. Winners will receive one free attendee registration to the 2023 Industry Summit (one winner from each association).
Registration for the Supplier Showcase is closed however, you can still register onsite. Stop by the registration desk and the Industry Summit staff will be happy to help.
Exhibit cancellation deadline for a full refund: August 19, 2022
No refunds after: August 19, 2022
Exhibitor Shipping Instructions
You will be provided with a 6'x30" fully skirted table with two chairs and a tent card identification sign. Exhibitors may set up between 7:30 AM and 9:00 AM on Monday, October 3rd. Exhibitors will be allowed back in the room at 11:45 AM. Exhibits must be broken down and cleared from Salon A, B, & E by 5:30 PM.
Encore is available to assist you with your electric and WiFi needs. Complete the Exhibitor Order Form and email it to Victor Ramos at victor.ramos@encoreglobal.com.
Each exhibitor who is shipping items to the Summit must complete an Exhibitor Shipping Form and email it to Todd Gressett: Shipping & Receiving at todd.gressett@viewlineresortsnowmass.com no later than September 18, 2022. All shipping fees must be paid in advance. Please be advised the US Postal Service and DHL do not deliver to Snowmass Village. The Hotel will charge storage fees for each box/package that is delivered to the Hotel before September 29th. Any storage and handling fees will be required to be paid in full to the association when you pick up your badge at the Industry Summit Registration Desk. Please be sure to follow these instructions exactly so there is no delay in your Showcase material arrival.
Click Here for Exhibitor Rules and Regulations
For more information on participating in the Supplier Showcase, please contact Cathy Vick at info@industry-summit.org or call 410-940-6347.
Exhibit Showcase Schedule
Monday, October 3, 2022
7:30 AM–9:00 AM: Supplier Showcase Setup
12:00 PM–2:00 PM: Lunch & Supplier Showcase
2:00 PM-5:30 PM: Supplier Showcase Move Out
Exhibit Floor Plan
Click the image to view the Exhibit Floor Plan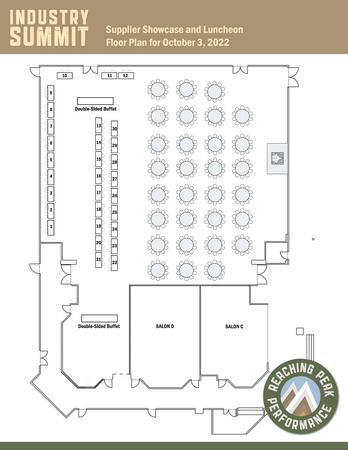 Sponsors
Key Dates
July 11, 2022
Attendee Registration Opens
Supplier Showcase Registration Opens
August 8, 2022
Early-Bird Deadline
August 19, 2022
Cancelation with Full Refund
August 20 - September 16, 2022
Cancellation with Partial Refund
September 2, 2022
Hotel Reservation Deadline
See Who's Attending
Summit Brochure